Agencies Join Forces to Thank the Frontline
In time of crisis, humanity is stronger than ever. There was no shortage of help between the partners and brands to get involved.
We received over 40,000 donated samples of product from our brand partners within 1 week of outreach and more brands are interested in participating if we decided to activate a phase 2.
Pivoting during this time when live events were put on hold, allowed our team to provide a service to our clients and partners to give back to the community and provide a way to distribute samples to the frontlines.
Several weeks ago, The HYPE Agency, Turtle Transit and 36creative got together for a brainstorming session. The thought was: because of the economic downturn, our agencies had underutilized resources. Could we work together to use them for a good cause?
As the conversation progressed, and as sports and events were postponed, we started talking about our front-line workers as our new National Champs.
From that thought, the THANK YOU TOUR was born. Although simple at its core, we believed that other brands would be able to see the benefit of giving back. To those essential workers working tirelessly to keep our healthcare, police, and fire departments running throughout a global pandemic. Every day putting 110% into a job that arguably put their own lives and families at risk.
In total, we gave out 16,938 products to 26 hospitals in and around Massachusetts over the period of 2 weeks.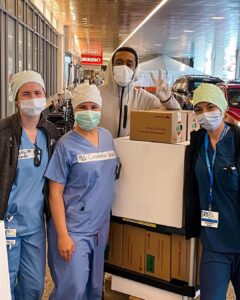 Where we went:
Elliot Hospital
St. Josephs
Northeast Rehab
Salem Fire Department
Salem Police Department
Lawrence General
Holy Family
UMASS Memorial
Winchester Hospital
Brigham and Women's
Beverly Hospital
UMASS Memorial (Clinton)
Leominster Hospital
Shields PET (Fitchburg)
Anna Jacques Hospital
Lahey Health
Boston Medical Center
Harrington HC Southbridge
Harrington HC Webster
Rhode Island Hospital
St. Annes Hospital
St. Lukes Hospital
Pembroke Hospital
Good Samaritan Medical
Morton Hospital
Sturdy Memorial Hospital
Milford Regional Medical
What started with a phone call to a few agency partners and has grown into a beautiful movement.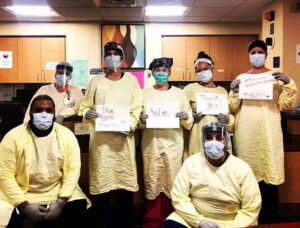 "At Hype!, we have amazing partners and wanted to offer a way to provide help to the frontline during these times. Like us, many of our partners are working from home (hunkered down), staying healthy and looking for ways to help!" said Dayna Gilchrist, Founder of The Hype! Agency.
Total Products delivered:
8,000 Clif Bars
3,168 Cedars packets
2,172 King Arthur Flour packets
1,200 Spindrift cans
720 RedBull cans
540 5-Hour Energy bottles
500 Stonyfield bottles
480 Rise Brewing bottles
432 Epic meat bars
416 Larabars
288 Lenny and Larrys Cookies
168 Food Should Taste Good chips
120 Pasta Jars
120 Encore Cracker bags
78 BrewLaLa Tins
24,000 Eastern Standard Pretzels
We received generous product donations from Cedar's, Eastern Standard Provisions, Lenny and Larry's Protein Cookies, King Arthur Flour, General Mills, Spindrift Sparking Water, and Clif Bar as well as local support from Trattoria Amalfi's Homemade Sauces. We are delivering delicious pretzels, grab n'go Hommus Snack Packs, single serve brownie desserts, and more to our heroes soon! We even have the King Arthur Bake Truck joining us on a few stops to hand out delicious, fresh baked chocolate chip cookies.
In total the truck was on delivery for 43 hours and we drove a total of 889 miles.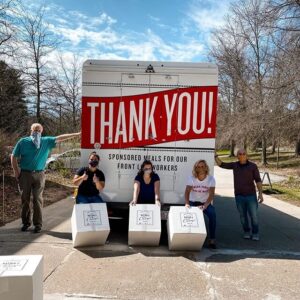 Our teams are open to a "phase 2" of this movement if brands and partners are interested and depending what is needed in the coming months. For now, let's hope to all get back to doing what we love- activating events and sharing amazing brands with the world!