More Than an Office – Hype's New East Coast Home
As Hype! approached 2017 and its 11th year in business, CEO and founder, Dayna Gilchrist saw big changes for the company. The lease of our East Coast office was nearing end and a decision needed to made whether to renew or buy a space of our own.
"I started contemplating owning a space of our own since we had been leasing for over 10 years. I knew I was on a time crunch because we needed to decide or get locked into another 3-year lease. We started exploring different spaces and was having a hard time finding the perfect Hype 2.0.

We didn't want to get into another place that was a just, meh. Just when I thought it wasn't going to happen, we found our new home. The space was an empty shell and we finally had a place we could make our own!"
Once it was official, Dayna hit the ground running with design concepts and really diving into what we needed as a company to be productive, inspired and successful in a space of our own. And when you look at the final product, there is not one inch of the building that lacks purpose and wasn't meticulously planned out.
"If you know me, you know I eat, sleep, and breath Hype as a brand- so inspiration was all around me! Working with the team, I went through hundreds of boards on Pinterest, snapped photos when visiting different cities and clients, and finally started putting my dreams to paper. It was important that the design was fresh, bold, and bright while also functional. I wanted to be sure everyone could do their best work here and had the tools around them to succeed."
Hype's new E.C. office is best described as innovative, collaborative and inspiring, but to our fearless leader and motivator, the office means much more than a building we come to work at every day.
"I might cry as I talk about this because it is definitely a milestone for Hype, and something I am incredibly proud of. Hype started back in 2006 in a small apartment on the West Coast. It was just a baby then and now this new era for Hype is a "grown up version" of itself. As the walls started to shape at the new office I felt a sense that re-energized the company. The new space is a physical representation of all the hard work that has gone into making this company what it is today. Our employees created this space!"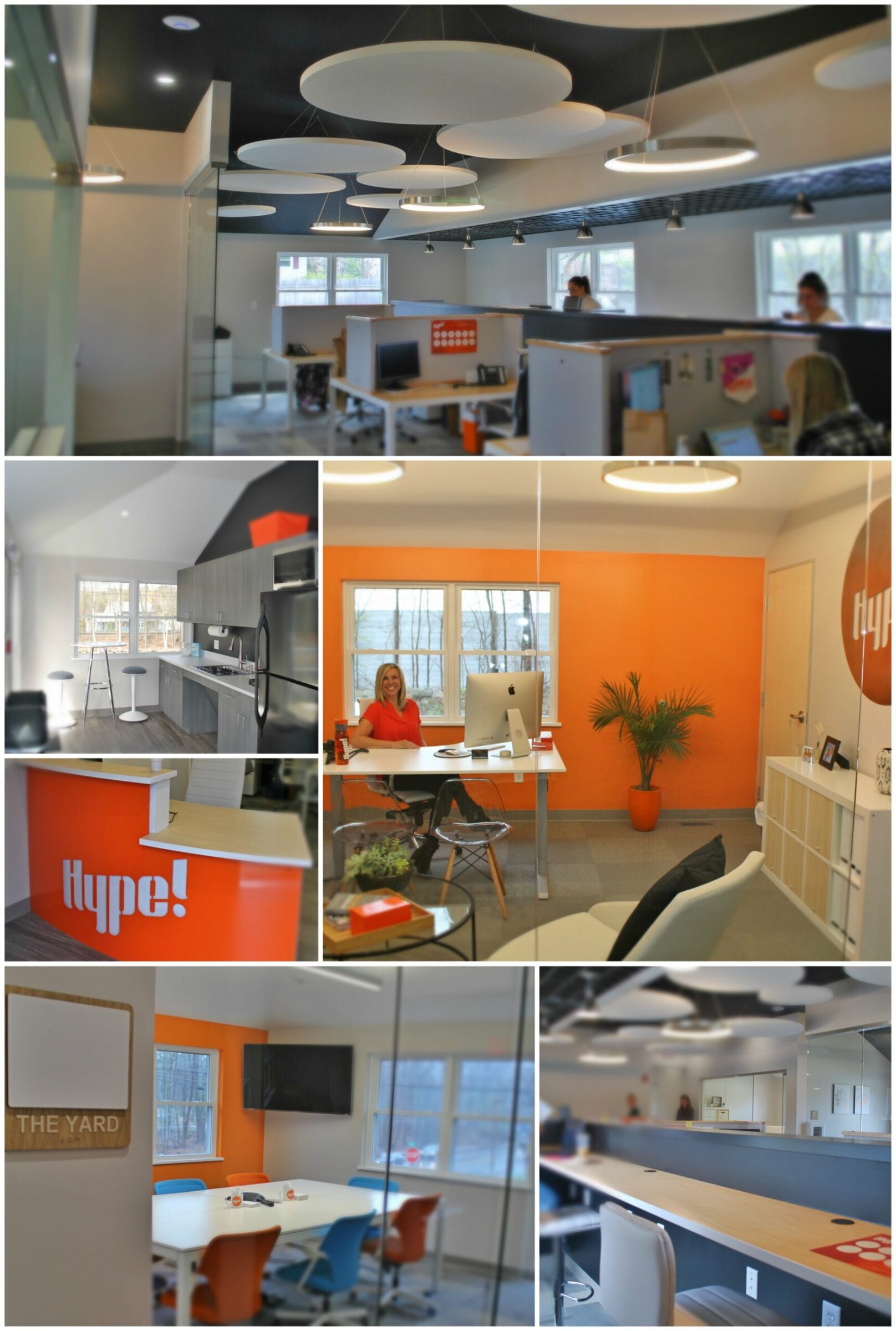 And how does Dayna see the new office shaping the team in the future…
"The new office signifies continued growth and a strong future for Hype. Continued growth for Hype and its employees is my number one priority.

Work should be a place you love to come to. I know I am in the minority when I said that but I truly feel it. I have an amazing personal life- (small plug here for the most supportive husband and sweetest boys on the planet) but I spend a lot of time at work and if I have to leave them to work every day, well it better be worth it. It was important to me to create a space that our employees were excited to come to everyday and a place where they could be creative and feel supported. A place they can be proud of and invite their family & friends to see."
Shoot us an email or head over to Hype's Facebook and let us know what you think of our new space!!