THE HYPE! AGENCY WINS INAVERO'S 2018 BEST OF STAFFING® TALENT DIAMOND AWARD
Diamond Award winners won the Best of Staffing Award for at least 5 years in a row, consistently earning industry-leading satisfaction scores from their employees and staff.
SALEM, NEW HAMPSHIRE – FEBRUARY 19, 2018 – The Hype! Agency, a leading experiential marketing and promotional staffing agency is extremely proud to announce that they have earned Inavero's Best of Staffing® Talent Diamond Award after winning the Best of Staffing Talent Award five years in a row for providing superior service to brand ambassador talent. Presented in partnership with CareerBuilder, Inavero's Best of Staffing Talent Diamond winners have proven to be industry leaders in service quality based entirely on ratings provided by the employees they have hired. This is Hype's 7th year winning Best of Staffing.
With fewer than 2% of all staffing agencies in the U.S. and Canada earning the Best of Staffing Award, just 33% of the 2018 Best of Staffing winners earned the Diamond Award distinction. The winners of this award truly stand out for exceeding client expectations.
"We are honored and incredibly proud of this award year after year. We pride ourselves in having the best service and staff in the industry. The Best of Staffing Award is a testament of all the hard work our team puts into making sure our brand ambassadors are knowledgeable, passionate, and dedicated to our client's projects. As we continue to hold ourselves to these standards, our clients only get the best of the best when it comes to their events and programs."
– Dayna Gilchrist, CEO & Founder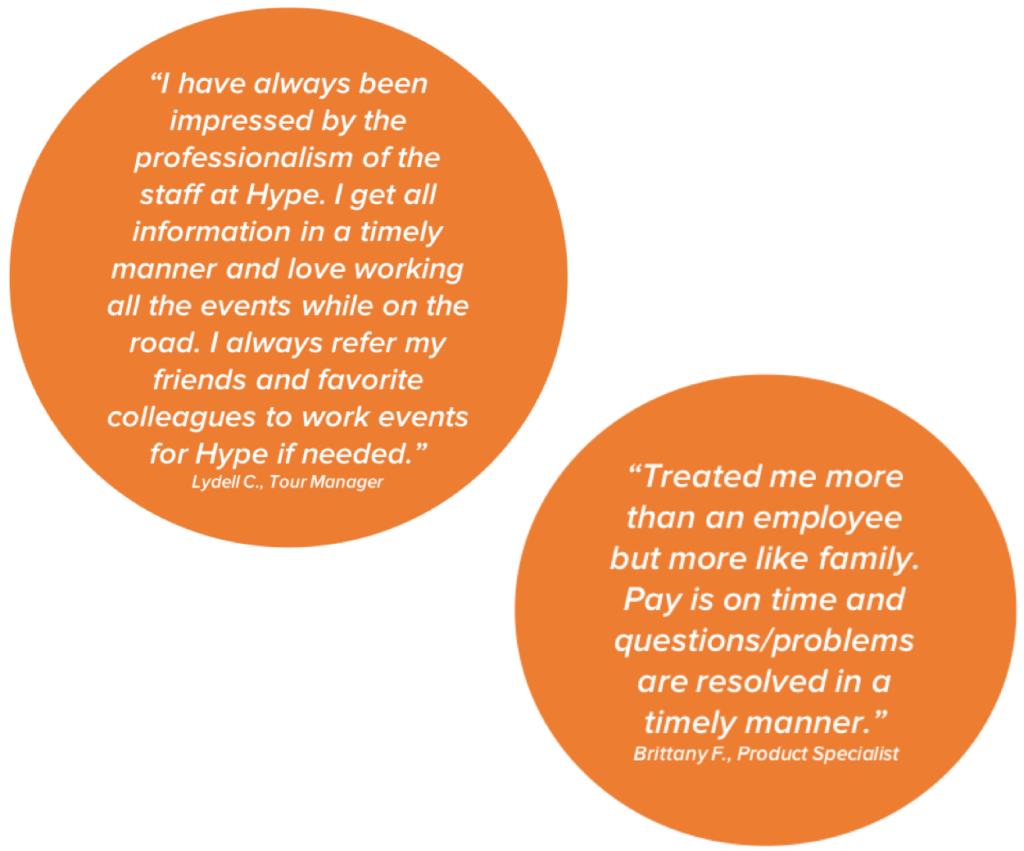 About Hype!
The Hype! Agency is a nationwide event staffing and event execution agency providing event staffing solutions and promotional marketing strategies since 2006. The business was founded by Dayna Gilchrist, an entrepreneur who built a thriving company in one of the fastest growing segments of the marketing industry, Experiential Marketing. The Hype! Agency specializes in staffing brand ambassadors, promotional models, product specialists, street teams, and samplers for mobile marketing campaigns, bar and nightclub promotions, publicity stunts, sports and action sports events, and brand sampling promotions.
Hype! is a WBENC-Certified Women's Business Enterprise with offices in Salem, NH and Redondo Beach, CA. For more information on the 2018 Best of Staffing Award – please visit https://www.bestofstaffing.com/agencies/the-hype-agency/
About Inavero
The Inavero team administers more staffing agency client and talent satisfaction surveys than any other firm in the world, reporting on more than 1.2 million satisfaction surveys from staffing agency clients and job seekers each year. Committed to delivering ongoing value to the industry, Inavero is proud to serve as the American Staffing Association's exclusive service quality partner.
About Best of Staffing
Inavero's Best of Staffing® Award is the only award in the U.S. and Canada that recognizes staffing agencies that have proven superior service quality based entirely on ratings provided by their clients and job candidates. Award winners are showcased by city and area of expertise on BestofStaffing.com – an online resource for hiring professionals and job seekers to find the best staffing agencies to call when they are in need.