Super Bowl LIII Roundup – Verizon Staffing
This past Super Bowl was an exciting one for Hype! Not only was it Hype's fifth consecutive year traveling out to manage our teams but this year's team was our largest team yet. Our Verizon team was made up of 47 Brand Ambassadors, Product Specialists and Market Managers. Overall Hype staffed about 100 Brand Ambassadors total in various roles on all of our Super Bowl week activations.
This was the fourth Super Bowl working alongside our agency partner, Momentum Worldwide, to staff the Verizon activations. In addition to 2 Hype Producers, who were overseeing and managing the program, the team of 47, consisted of 22 fly out staff- who currently work on either the Verizon NFL program or the Verizon 5G activations. From Sacramento to Los Angeles, over to Denver, down to Houston and New Orleans, all the way up to Indianapolis and New Jersey- our Super Bowl LIVE team was stacked with Verizon veterans!
Our seasoned NFL and 5G team members were joined by 25 local staff. Most of the team had previous Verizon experience working a variety of events that Hype staffed through 2018, ranging from Luke Bryan and Justin Timberlake tours, to our previous NFL Falcons team in Georgia! The team kicked off with two days of classroom training prior to Super Bowl LIVE opening weekend. Day one started with traditional ice breakers that got the crowd laughing and set the tone for the next 10 days they'd all be spending together. Opening weekend came and went and as to be expected, we had some learnings. Teams were moved around, and our first time Super Bowl staff got a feel for what it's actually like to work the Super Bowl!!
Among the 47 hired, we had 3 staff working an airport activation– welcoming folks to Atlanta and encouraging them to enroll in the Verizon UP rewards program as well as letting them know to look out for our team in Downtown Atlanta. Two staff worked inside the Super Bowl Experience helping facilitate player meet and greets while the additional 42 staff worked Super Bowl LIVE. Super Bowl LIVE was spread out across Olympic Centennial Park and was where all the action was happening! To start, we had 3 staff assisting in the Members Lane where Verizon was rewarding Verizon UP members with a fast pass lane into Centennial Park. There were 4 bubble buddies spread out across the park, each with 2-3 staff focusing on enrolling attendees in the Verizon UP program and informing them of the perks! Those perks included access to the Verizon Members Lounge located next to the stage where there would be performers each night. A team of 6, rock-n-rolled every day in the Members Lounge where Verizon Wireless consumers could enjoy a comfortable view of the performing acts and if preferred, had the chance to win front row access! And, of course, there was a selfie station for guests to remember their experience! The remaining 24 staff were located around the main structure which included the standard greeter, line management, and hospitality roles!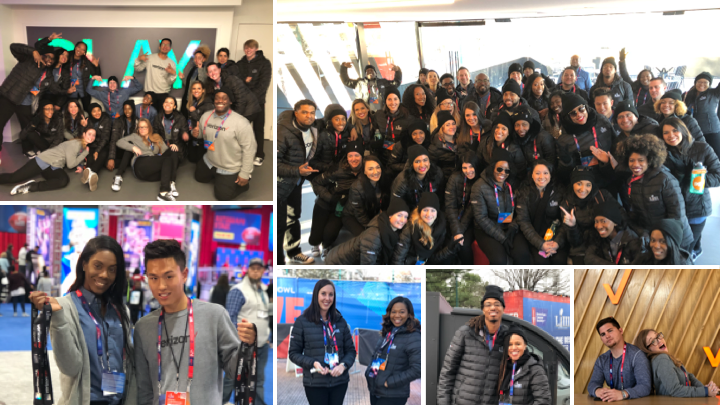 Along with that, this year Verizon went big with some Instagrammable moments, VR experiences, 5G gaming where fans could play Madden, a quarterback challenge that utilized 5G live-streaming blackout goggles and an interactive fiber optic light wall! Player meet and greets continued on in the Verizon structure, music performances ramped up and the city of Atlanta was getting rowdy. With performances from Monica, The Ying Yang Twins and appearances by Drew Brees, Odell Beckham Jr., Terry Bradshaw and more, the team could feel the excitement in the air!
Although every day looked different for each member of our team, we came together at the end of the day to review learnings, track engagements, and ensure we were prepped for the next day. We love when we are able to be in the field with our team to experience the problems in real time and help solve alongside them, act as a buffer between the client and staff, and most importantly build a stronger rapport with our teams and make memories with them!
11 days of activation, 14-hour work days, 2 travel days, 47 staff, 2 Hype Producers- Super Bowl 53 is in the books and we couldn't be happier! And as Ariana Grande says best, 'thank u, next!'
P.S. Ever curious of what happens behind the scenes? Or which staff is the class clown of the group? Check back next week as we share some fun-facts we learned about our staff during Super Bowl week!!