Making an Event Instagrammable
As social media continues to grow, so does the desire for people to put out creative, "stop- scrolling" type content on their pages. Experiential Marketing already gives a brand the one-up from traditional marketing by giving the consumers the ability to touch, interact and test a product, but by using your experience as content you are creating a new flood of potential viewers. Research has shown that 98% of event attendees create content at branded experiences, and 100% of those people share it.
Designing unique and visually appealing photo opportunities encourages attendees to post- producing a sense of FOMO to their followers. A photo opportunity as guests enter the event offers them the ability to check into or tag an event as well as the brand being represented before even entering the activation. By offering multiple photo opportunities, attendees will be able to share throughout their experience in real time via stories and live feeds.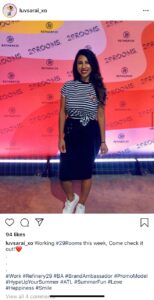 If you want your event to create any presence on social media, brainstorming and thinking of event hashtags is imperative. Having hashtags in your caption increases post engagement by 12.6% while also driving traffic to the content and brand page. Developing hashtags prior to the event invites and guides attendees to post the event's generated hashtags rather than creating their own. It is important that the hashtag gets as specific as possible, relative to the event, memorable, easily searchable, and not too long. When consumers post to social media platforms, it builds a following, increases the reach of the brand, improves SEO, and now becomes shareable content online. The more people posting and talking about the brand online, the better!
Incentives and prize giveaways can help bring an interactive piece to the activation as well as create more opportunity for social posting. People love participating, so offering a fun and simple activity can drive traffic and interest into the space. And although, people love participating, let's be honest they love free things even more! Having subtly branded, customized freebies will give the event attendee a piece of the activation to take home creating a lasting impression.