Road Warrior Tech Must-Haves
When you work in events, chances are you'll spend some days on the road traveling to cities both new and old. And although you may be away from your desk, your projects and programs don't take a hiatus while you're changing flights and booking Ubers.
But working from the road doesn't have to be as hard as slaying dragons. Excellent connectivity and a seamless remote working experience are right at your fingertips with the right tech tools! Not sure what to bring? Hype's got you covered with our top 6 Tech Must-Haves for Road Warriors: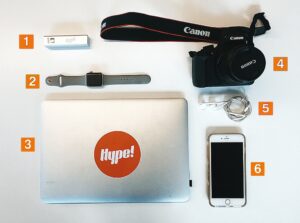 Portable charger. Don't ever leave the house without one. Your phone battery will die and you will curse the Gods of Technology (aka Apple and Google). Don't trust those outlets on airplanes and buses either – they rarely work and will leave you cursing those tech gods for the second time in the same day.
Smartwatch. If you're looking for the ultimate multi-tasking tool you need not look farther than your wrist. Not only will this little gadget keep you updated 'round the clock (pun intended) but will also tell you how many steps you've put in running between airport terminals – so go ahead, eat that bagel.
Laptop. The more lightweight, the better (unless you're looking to up your gains). You're not able to carry these onto most flights now because the world is in a strange place, but buses and trains are still laptop friendly! Bonus: if your hotel room doesn't have a Smart TV, you can still keep up with your Netflix binge watching thanks to your handy dandy LAPTOP!
Camera. Great for channeling your inner photographer and taking high quality event photos to later share with your client. Also great for capturing photos of all of the places and things you'll see on your trip – you know, in case you want to brag to your family and friends (aka Instagram followers) about how cool your job is.
Headphones. Unless you're really into eavesdropping on strangers' conversations – okay, we're kind of into that – headphones are your go-to tool in tuning out the weird discussions and sounds around you.
Cell phone. Need we say more? This is basically an extension of your hand, so we'll just leave it at that.
Working on the road soon? No problem! Get your tech-nerd on and make it happen!