Types of Events to Activate NOW
by Dayna Gilchrist
You know that glimmer of hope we all needed? That case study? That first event to get our hearts pumping again? It is here and it's possible to have those feelings again! We are out, putting smiles on people's faces again and it feels so good!
As an industry plagued by the unknown, we were born for this. As "event people" we have the crazy mindset that we can make anything happen! That's Hype!'s motto after all- "you have an idea, we will make it happen!" We are expert problem solvers, proactive thinkers, that see a problem and have a list of ways to solve it and navigate it.
It is possible to rebuild and get out there again doing what we love- safely and effectively. We have spent the last 4 months reworking plans, researching, studying, and listening to our colleagues, teammates, clients, and staff. We are evolving and reshaping the old ways of engagement and creating safer strategies that bring joy to consumers at a time when we need it the most!
Here are some ways we can start activating NOW-
Pop-Up Drive-in Movie Style Experiences
Drive-in theaters are popping up all over the country allowing artists to perform safely and satisfy the craving from consumers. As entertainment venues were forced to close, outdoor movie theaters opened and were built in parking lots to accommodate social distancing. Brands have a unique opportunity this summer to reach consumers all over the country and Hype! can work with you to route and plan for sample distribution safely and effectively by matching your brand with the target demo of the particular concert or movie screening. Think welcome goodie bags to enjoy during the show or exit sampling to give them something to have on the way home!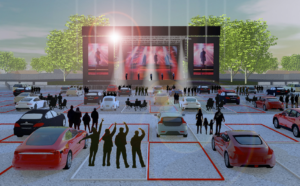 Image credit: Live Nation
Curbside Product Demos
Looking for a way to demo your product or showcase your brand? Our partners over at Turtle Transit answered – as retailers begin to open at reduced capacity, brands are recognizing their stores have limited parking spaces for curbside pick-ups and their drive-thrus are overloaded. Their mobile drive-thru experiences can be used as an extension to your brick and mortar to better serve your customers at locations you can expect to find them this summer and fall. Whether you want to distribute samples at the park, host a short product demonstration at retail locations, or simply want to create a small satellite store to scale up your curbside offerings, consider a pick-up pod or curbside cube as a unique destination to engage your target audience. Hype!'s event staff and brand ambassadors can work to set up, activate, and breakdown the engagement in an easy turn-key fashion!
Image Credits: Turtle Transit
Mobile Billboards & Mobile Food Trucks and Vans
Hype! has been in the Mobile Tour business since we opened in 2006, and it is a favorite of our clients to get products into consumers' hands in a vibrant, fun way! You get the best of both worlds, the mobile billboard piece (fully branded and customized food trucks or vans on the road) and a sampling vessel (vending window allowing safe and effective sampling). Vehicles come in all shapes and sizes and can be fully customized inside and out for a variety of clients. We can create touchless distribution options and provide recommendations for best practices on site.
Image Credit: Turtle Transit
Street Teams
Intercept consumers where they play- we are seeing more and more people enjoying the great outdoors – hitting up the local trailheads, riding the bike trails, or out shopping. Why not surprise and delight them with something special while they are out enjoying life! Hype can work with you to create a safe, no-contact distribution.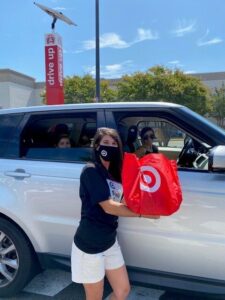 Image Credit: The Hype Agency
We are hitting the vault next week to review some of the older programs we have executed in the past that we can resurface during this "new world". Stay tuned and reach out to collaborate and start working together again!