Intern Diaries: Interviews & Staffing Assistance
From the Desk of Paige, East Coast Summer Intern
During my first few weeks at The Hype! Agency I was given the opportunity to get a closer, more hands-on look, at one of the biggest programs of 2019- Refinery29's 29Rooms! Before getting introduced to the program, I had never heard of Refinery29, so I began to do some research. I was instantly intrigued at how different and eccentric the brand was, and how entertaining past years of the 29Rooms event has been! The 2-week pop up gives visitors the chance to explore 29 different experiences while being under one roof. The experiences range from painting in an art studio to walking through doors into different dimensions, and even attending a disco dance party! Due to my interest in working in event planning, I personally loved getting to see what goes into such a major event like this one. Something I find most interesting in the staffing process is how Hype!'s activation team really takes the time to identify the perfect Brand Ambassadors for each individual room by asking specific questions to learn about their personalities, hobbies and interests. I've learned that this step in the staffing process can make or break the experience for the people visiting the activation and for the success of the program, which is why for an event such as 29Rooms, this is vitally important.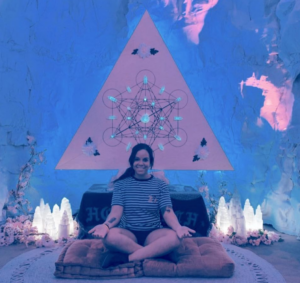 From the Desk of Amanda, West Coast Summer Intern
On my second day at The Hype! Agency I was asked to conduct preliminary interviews for one of our upcoming events with Audible at Comic-Con in San Diego! I was extremely nervous but our West Coast veteran, Drew did a few with me to help me get in the groove and feel confident. By the end of the week, I was a lot more comfortable and came into work excited to see if I had any callbacks from potential Brand Ambassadors who were interested! After I finished the preliminary interviews, we were able to nail down our perfect team and I was able to see the activation come to life. My favorite part of assisting with this activation was seeing it come to life! The BA team exceeded all expectations and their costumes were out of this world!