10 Habits of Successful Experiential Campaigns: Bring Your Product to Life
ComicCon is known for bringing the latest and greatest comics, graphic novels, anime, manga, video games, toys, movies, and television shows to life! And last year's History Channel activation promoting their Knightfall tv show was no exception. In partnership with Civic Entertainment Group, the activation was brought to life by The Hype Agency's actors and brand ambassadors playing knights who stood guard outside of the Knightfall castle and interacted with convention goers. Outfitted in custom knight garb, the "Guardians of the Gear" protected the personal treasures of Comic-Con badge-holders just as if they were watching over the Holy Grail.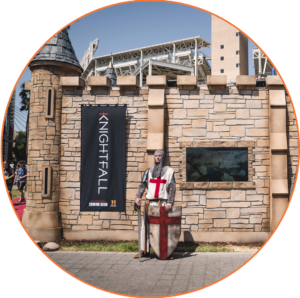 To successfully bring a "product" to life it is all about shining the right light and being in the perfect environment; and for Knightfall's activation, there was no better environment than 2017's San Diego ComicCon. When consumers are able to see their favorite video game, show, movie, comic, etc. come alive, that immersive experience results in a more passionate and dedicated follower and customer.
Looking forward to this year's ComicCon? Keep an eye out on Hype's Instagram and Facebook as we go live- sharing our favorite activations and checking in on our brand ambassador staff!