10 Habits of Successful Experiential Campaigns: Create a User Triggered Experience
A user triggered experience is one that the consumers facilitate. When they are in control, it allows consumers to go through the designated process comfortably and arrive at their conclusion naturally. It leaves the customers pleasantly surprised, wanting to come back for more.
And with pop up shops taking over experiential as one of the most popular activations, tapping into a user triggered experience is key!
JC Penney's 2017 holiday pop up wasn't your standard retail experience, it had an extra twist surprising and delighting consumers in the space. During this past holiday season, customers entered the popup shop, and without knowing, were looking at JC Penney clothes and accessories. The theme of the pop up evoked glamour and glitz- just in time for the holiday season! The space was discreetly branded under the name of "Jacques Penne". The two-day pop up offered curated collections and once the customers were immersed in the sparkly space they were able to see, feel and try out clothing, accessories, home goods, and more from JCP's holiday collections.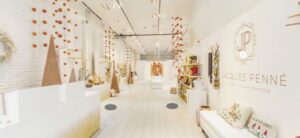 With much surprise and joy, customers realized the high fashion and on trend clothing was being offered at an affordable price at JC Penney! The experience throughout the activation surprised the consumer and through a positive user trigger experience created a sense of loyalty amongst the consumer and the brand!
… And our Brand Ambassadors really enjoyed working the experience as well!