2016 Experiential Marketing Summit Roundup
If you are in the events and experiential world, you probably have heard of Event Marketer and The Experiential Marketing Summit. Hype attends the EM Summit produced by Event Marketer every year! Event Marketer Magazine was founded in 2002 to serve the information needs of strategic brand-side event marketers and agency executives across the spectrum of face-to-face marketing–including mobile marketing, mall marketing, street events, trade shows, corporate events, proprietary events, virtual events, buzz marketing, PR campaigns, sponsorships, business-to-business events, and press events. It has become the world's most respected provider of content for the event and trade show category. Every year Event Marketer puts on the ultimate training conference on the ultimate marketing discipline: experiential marketing!  With more than 1,500 marketers from around the world coming together to share ideas, collaborate, and put on a killer event, it is pretty inspirational on all levels! At the Summit, you're not just passing the heads of marketing from Pepsi, Chobani, Microsoft, Cisco, Bacardi, Intel, Red Bull, and dozens more in the hallway—they're your actual teachers, along with hand-picked design experts, strategy chiefs and bestselling authors.
Of course amongst all these amazing folks, there was an ocean of orange that took over the conference! Well, maybe not so much an ocean, but there was a small stream.  Hype was there representing in full orange- wearing our Hype pride as we networked, exchanged contact information, and soaked up all the wonderfulness happening in experiential marketing.
The EM Summit was a 3-day conference and we want to share some of our favorite moments from the conference as well as some common themes of this year:
1.)   Set Creativity on Fire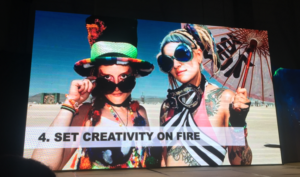 This is a snapshot from Adam Harter's Keynote on Thursday morning. Adam Harter is the VP of Consumer Engagement for a little company called, Pepsi. Kidding of course! These guys know how to be creative and put on a show! Two words: Super Bowl. Pepsi is known for being right on the pulse when it comes to pop culture, and staying creative is definitely top of mind for them. This was a common theme of the other presenters as well. In experiential marketing, you can't just be "creative", you need to "set creativity on fire". The old saying of "thinking outside the box" doesn't do this group justice when you see the unbelievably creative work that is happening with these brands; everyone is pushing the envelope!
2.)   Be a part of something great.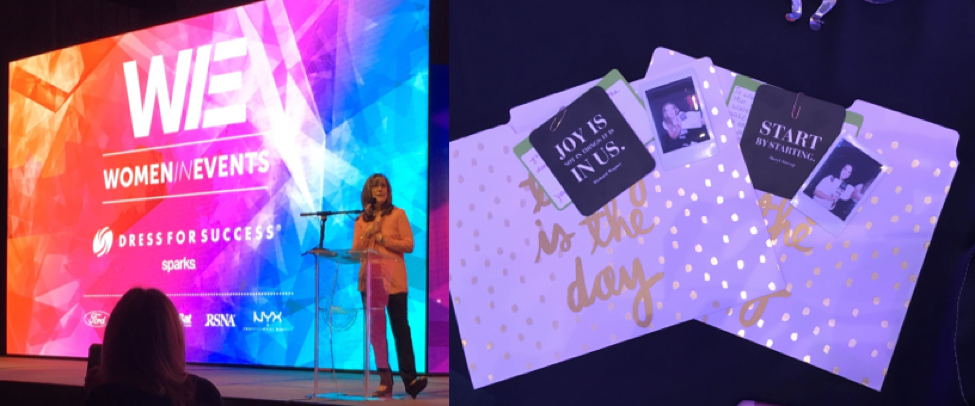 At this year's summit Sparks, a global experiential agency, invited woman to their Annual Women in Events Program and partnered with Dress for Success to make it a philanthropic event (with wine & networking, how could we say no?!). Well, there wasn't a dry eye in the house when the speaker told her story- how she was a recovering addict that given a second chance by the amazing organization, Dress for Success, and what an empowering moment to be a part of! At the event, we created over 250 "career bags" and stuffed them with interview essentials and motivational reminders for women entering the job market. It was amazing to be part of this event and shows you how powerful the event space can be when you really connect with your audience. A printed ad cannot make you feel that way!
3.)   Everything is an Event. Everything done well is an Experience.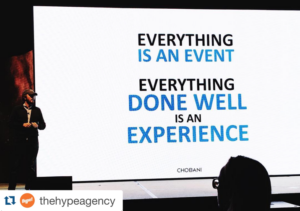 Talk about an inspiring guy to listen to! Up there on the left of the screen is Peter McGuiness, Chief Marketing Officer of Chobani. Now I will pause for a minute while you head to your fridge, peel back a Chobani yogurt cover and come back for some of my favorite takeaways from this keynote. Chobani is making news headlines for being a leader in the yogurt category, the experiential world, and most recently for creating an amazing place to work. There were so many lessons that we can take away from this brand but I loved this slide! McGuinness stated that, "Everything in an Event. Everything done well is an Experience"! Standing up there on stage, he challenged us to do more in the events space- think more creatively, lead and others will follow, we can't "live" in the middle anymore. We need to live in a space where we are making people feel something and making it an experience to everyone it touches! Chobani is doing this as a brand and in its experiential events 364 days a year! Pretty inspirational on so many levels, as a business owner, as a marketing professional, and as a lover of yogurt! Plus, he loves to use his own Chobani lingo like "Cho-mobile" or "Chobaniacs" – we get it, we have "Hypettes and Hypesters", our own "Hypeology" and we love all things "Hype"!
4.)   Brand Ambassadors- "An event is only as good as its staff"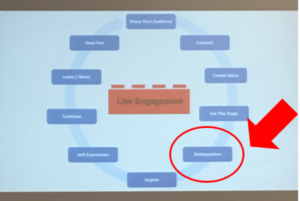 Yes, yes, yes!!! Can I get an AMEN? We are not just bringing this up because we live and breathe this, we bring it up because this was a common theme we heard all over the conference floor! All these amazingly creative events will not come to life without the right brand ambassadors and the event staff. The engagements, the evoking of emotion from consumers, the taste it, feel it, touch it factor of the events thrives off the need for brand ambassadors that truly embody the brand and can invite consumers into the experiences. This slide is taken from a presentation put on by Kai Witbeck, the Event Marketing Manager for Lego. You know, Lego, the fabulous little bricks of fun that all of us have played with in our lifetime. This brand takes hiring brand ambassadors seriously because they have to. Their consumers are fun, "light in their eyes" children that are attending events for one reason, to have fun! The staff needs to be kid-friendly, enthusiastic, patient, and above all fun to be around! We get it. (shameless plug- call Hype today for the best staff in the industry).
Overall this year's EM Summit in Denver was a wonderful success! It was incredibly inspiring per usual and lends great learnings to bring home to the office. It always a pleasure to connect with current clients and partners, and meet some new ones!