Coachella Festival – Experiential Roundup: YSL Gas Station Beauty Pop Up Shop, Amazon Lockers, Revolve Festival, Peets Cold Brew
FOMO hits hard when festival season kicks off! Each year the brand activations get more elaborate and glamorous, offering the attendees exclusive and unique opportunities. 10 days of Coachella kicked off festival season, and the experiences from this year's festival were pretty incredible.
Below are some of Hype's favorites-
YSL Gas Station Beauty Pop Up Shop
While driving down Route 111 in Palm Springs, Coachella-goers were pleasantly surprised by Yves Saint Laurent Beauty "makeup oasis" pop-up, designed to be a gas station offering cosmetic refills. The space included a tour bus, heart-shaped balloons, convertible cars, a giant lipstick sign, and neon pink gas pumps creating an array of photo ops and Instagrammable moments! The pop-up shop featured a makeup vending machine, VR technology allowing attendees to virtually try on different shades of lipstick, as well as educating attendees about desert beauty tips for Coachella.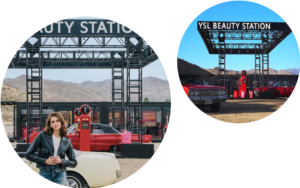 For those who saved their Coachella shopping until the last minute, Amazon made shopping and shipping for the festival more convenient by offering the option to ship your festival needs straight to the festival grounds! The lockers had a designated spot at the festival where attendees brought their shipping barcode to pick up their package. The area was equipped with staff to help resolve any issues quickly. By offering this convenience, attendees were able to focus on the experience, and if they forgot something at home- they had the ease to ship it straight to them.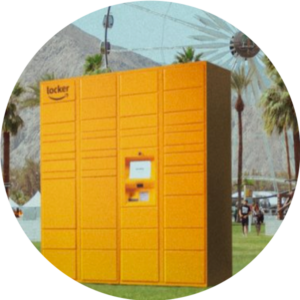 Revolve Festival reappeared at Coachella for the 4th year in a row- somehow bigger and hotter than the previous years! The celebrity-studded, invite only festival featured a guest list including the world's biggest fashion influencers, athletes and musicians. The festival featured a lineup of the hottest artists as well brand partnership activations showcasing style and beauty needs. The festival included multiple events, and the exact location was only revealed to those on the invite list making the overall vibe extremely exclusive.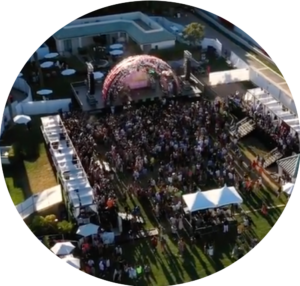 Peets returned to Coachella with what was the perfect reset space in the midst of the festival craziness. The event footprint featured a #BetterEnergy Bus equipped with salon chairs and oversized hair dryers blowing cold air- offering a relief from the desert's dry heat. Outside of the bus was another area where concert-goers were able to cool off in the shade while also getting their gadgets charged up. Peets worked through the night providing coffee samples to keep the party going!