SXSW Staffing Roundup
SXSW is a 10-day creative conference where film, movie and interactive moguls come together to showcase and celebrate their success in the industry while creating networking relationships! These interactive experiences would not be possible without the hiring of Brand Ambassadors, Event Staff and even Improv Actors to make these fabulous events and activations come to life! That's where The Hype! Agency comes in! Hype has been staffing for brands at SXSW on and off for the past 10 years with this year's brands being Smartwater, Vitaminwater, Land O' Lakes, 5-hour Energy, and Amazon's Audible.
Smartwater hit the ground running with 3 teams activating consistently throughout the first week. With 9 Brand Ambassadors guerilla sampling at major hotspots around the festival, the brand was able to get the word out about their antioxidant and alkaline products. The team was provided with branded push carts that served as 'vehicles' while they handed out 1- liter bottles to attendees to help them cool off in Austin's hot heat. As the official water sponsor of Amazon Prime's – "Garden of Earthly Delights", Smartwater stationed 3 Brand Ambassadors in the lounge providing cool refreshments as attendees snuck away from all the hustle and bustle. Staff responsibilities included greeting guests, assisting with guest's photo opps as well as making sure the activation space was clean and the product was always stocked. The footprint included a large tree bar where the Brand Ambassadors were sampling from, live music performances, photo booths, and most importantly- a puppy pen. Smartwater is also the official water sponsor of Fader Fort who was hosting an exclusive invite only event produced by Fader Magazine. Hype's staff provided attendees with 1-liter bottles of Smartwater for a quick refresh as they finished off the weekend at SXSW.
Vitaminwater kicked off their 4-city sampling tour at SXSW, bringing to life their Extreme Urban Farmer World. While sampling the new flavors, Vitaminwater Fire and Vitaminwater Ice, our team looked to Target "millennial originality seekers" who want to break up the monotony of everyday living. Staff goals included trial through sampling both wet and full bottles, driving social content, and growing brand love. Along with Smartwater, the Vitaminwater team provided Fader Fort attendees with either a little heat or cool down depending on how they were feeling!
5- hour Energy looked to keep attendees energized for the last few days of week 1, with a team of 5 high energy Brand Ambassadors. The team kept the Hype high and guerilla sampled around downtown Austin hitting high traffic locations and creating brand awareness.
With Land O' Lakes' 3rd year at SXSW, CMO Tim Scott wanted "to get people in the door and have them start thinking differently about agriculture, about technology, about the food system. The interactive activation site featured a giant slide that dropped consumers into an avocado ball pit. Along with this, Hype's team of 10 Brand Ambassadors and Team Lead were responsible for navigating attendees through the exhibit, delivering key brand messaging as well as sampling the various products.
Audible kicked off 2 separate very different activations at SXSW. One team was representing Audible and the integration of SXSW on Audible. 6 of Hype's Brand Ambassadors were surrounding the Austin Convention Center distributing offer cards that communicate both the SXSW on Audible messaging as well as the complimentary (2) month trial, (2) free audiobooks of choice and (4) free Audible Originals. With this, they were also informing attendees of the Rachel Hollis live panel where she was discussing her Owning Your Own Voice and Your Story.
The second activation was a collaboration with Amazon Audible and Broadway Video. Audible and Broadway Video announced their production deal in February 2019 to produce multiple audio- only comedy originals. The focus of the collaboration at SXSW was with Heads to Roll, which was created by Saturday Night Live star Kate McKinnon. The experience featured a bar takeover that immersed guests into a medieval experience that brought the comedic voices of Heads Will Roll to life. Hype's Brand Ambassadors were inviting SXSW attendees to "hang up their bicorn hats and revel like royalty with Audible" with themed food & drink sampling, shareable moments and a press event. The Brand Ambassadors were stationed strategically throughout the activation space to assist in content sampling and to message Heads Will Roll preorder.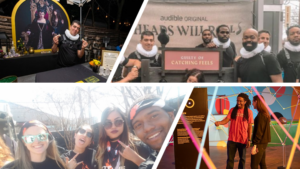 Plan to visit SXSW next year? Call The Hype! Agency for your event staffing needs!