#ThrowbackThursday: Super Bowl 51 Verizon Program Roundup
While our Patriot's fans are still hooting and hollering over one of the greatest comebacks in sport's history, we're looking back at our very own all-star team of Verizon specialists who, in our eyes, rocked it out in Houston during the Super Bowl festivities!! Our team of 19 Product Specialists and Brand Ambassadors spent two weeks in Houston training and executing at Super Bowl LIVE. The majority of our team members were Product Specialists who had been working on our NFL regular season Verizon teams since August nationwide! We even had team members from our Atlanta Falcons VZ and New England Patriots VZ team representing!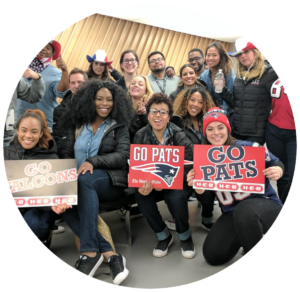 Our team of Product Specialists and Promotional Models took on 2 days of intensive classroom training, and a half-day onsite training to ensure they were equipped for the 9-day Fan Festival at Discovery Green! Our team was in the middle of Super Bowl LIVE presented by Verizon, playing headquarters to fans, equipped with charging stations, a VR experience, meet and greets, and more!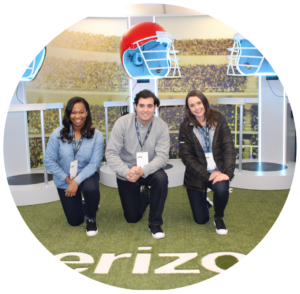 Our Product Specialists and Models were placed throughout Verizon's two-story footprint where they oversaw charging stations inside and outside, directed fans to the exclusive Verizon-only lounge, and welcomed guests in to experience the Virtual Gridiron VR game. The VR game allowed fans to go head-to-head against another fan, choose and run real plays, and experience it from a player's point of view. Verizon also had a sneak peak into their command center where Verizon's network, technology and lab teams were working as well as showing live feeds from video cameras all over Discovery Green and diagnostic information showcasing how they really were the heartbeat of Super Bowl LIVE! When the upstairs lounge wasn't hosting meet and greets, our staff invited Verizon customers to relax and enjoy the rooftop lounge, additional charging stations and complimentary beverages and snacks.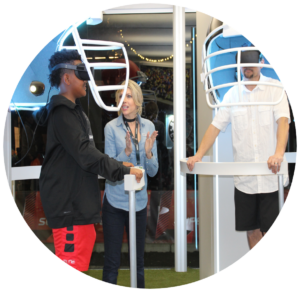 Verizon hosted multiple meet and greets with current and retired NFL players such as NY Giant's wide receiver, Odell Beckham Jr., and Pittsburgh's runback back, Le'Veon Bell, and even our Associate Producer's favorite, the Cowboy's rookie (but stud of a quarterback), Dak Prescott. A limited amount of lucky Verizon fans gained access to an exclusive lounge permitting them to complimentary snacks paired with a 20-minute interview, autographed memorabilia and a photo opp.
On game day, we had a small team of 5 Product Specialists who worked inside NRG stadium at the Verizon footprint overseeing charging stations. Two of our regular season Texans Product Specialists worked alongside our N.E. Patriots Market Manager who was lucky to be onsite and witness her Patriots win!! This was Hype's 2nd year working with Momentum Worldwide as their staffing partner at Super Bowl and each year keeps getting better!!