SBLIII Staffing: Brand Ambassador Team Fun Facts
Last week we shared about the Super Bowl LIII Verizon Experience and this week we're sharing some behind the scenes action. Between ice breakers at our 2-day training, and sharing small, confined spaces for a week-long activation, you tend to learn a thing or two about your teammates or in this case, our brand ambassador staff!!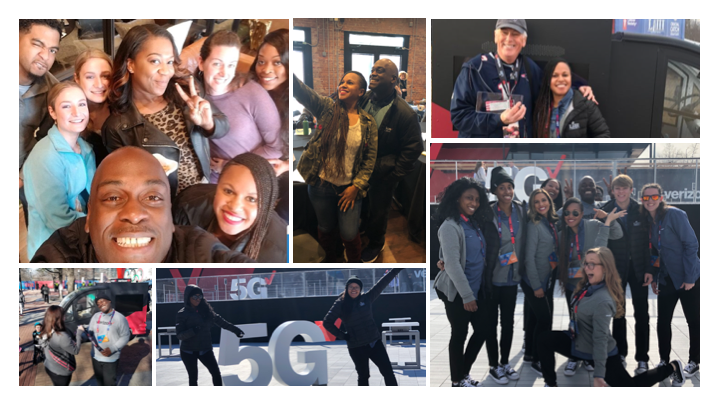 Although ice breakers tend to get a bad rap, here at Hype we love them! You typically walk away learning something new about someone, or an interesting story at least. This year at SBLIII, our team of 47 started their on-site training by writing down a fun or surprising fact about themselves. We learned that some of us share qualities like never having broken a bone before, and that a handful of the team members were working their first Super Bowl, but a few fun facts left a lasting impression:
Our twin sisters from Portland, ME had attended Circus School and they even showed us some moves!
The Baltimore Raven's NFL Market Manager eloped the weekend before coming to training!
Our former Atlanta Falcons NFL Market Manager was in the NFL Draft but was out of commission after a knee injury- ouch!
Brittany, our Houston Texans NFL Product Specialist, drinks pickle juice!
One of our favorite Brand Ambassadors from the New Jersey/New York market is joining the military this year!
We love any opportunity we get to be onsite with our staff, but Super Bowl is always one of a kind! Besides it being a week (+) long experience, the teams are usually large, and the back of house spaces are typically small. Between eating Ramen Noodles and fueling up on Starbucks and 5-hour Energy, it's safe to say we all were fans of some midday pick-me-ups! Other than popular snack choices, we learned a few other preferences about the team:
A group of our team members were planning their post-Super Bowl vacations. Iceland, Hawaii and a cruise were just a few options on the list!
Ricola Honey Lemon flavored cough drops was the preferred flavor amongst the team.
A handful of our local Atlanta Brand Ambassadors had worked together in Minneapolis for SBLII the year prior.
Our team prefers Waka Flocka Flame over Ying Yang Twins and definitely does not like country music!
Poker was a crowd favorite amongst the travel team.