Super Bowl 52 – Verizon Staffing Partner Roundup
Our team is finally recovered (and defrosted) from 13 exhausting and exhilarating days in the Bold North. We're taking a look back at how we staffed the ultimate A-Team for Super Bowl 52.
One thing we all knew going to Minnesota was that it was going to be cold. And cold is putting it lightly. We prepared our team as we reached out with confirmations informing them of the usual: long days on their feet, back to back work days, and that they also needed to be ready to work outside in temps that could reach below zero. Our team of top 20 performers jumped on board with zero hesitation. This year's Super Bowl was Hype's 3rd year staffing the Verizon experience with Momentum Worldwide. Uniform sizes were gathered, flights were booked and packing lists were sent out. Snow boots, winter jackets and many, many layers were just a few recommendations.
The A-Team consisted of 20 Product Specialists, all who served as Managers, Product Specialists and a few select Brand Ambassadors from various Verizon teams around the country. This team was hand-selected and among the twenty, four were part of the local Minnesota Vikings team. Two team members were from Philadelphia supporting the Eagles and one manager from Boston supporting the New England Patriots!
Our team went through two days of intensive training- reviewing key messaging, consumer rewards, meet and greet schedules and as always, team bonding. Soon enough, our team was LIVE and Super Bowl 52 was underway. Super Bowl Live sprawled 6 blocks of downtown Minneapolis on Nicollet Mall with a handful of enclosed footprints and a handful of outdoor spaces. The first weekend consisted of a lot learnings and reconfigurations but our team adapted and moved forward. Our team was spread out across the 6 blocks of Super Bowl Live. Our Product Specialists greeted fans, enrolled consumers in the Up Rewards program and rewarded winners with autographed merch, and even tickets to the Super Bowl!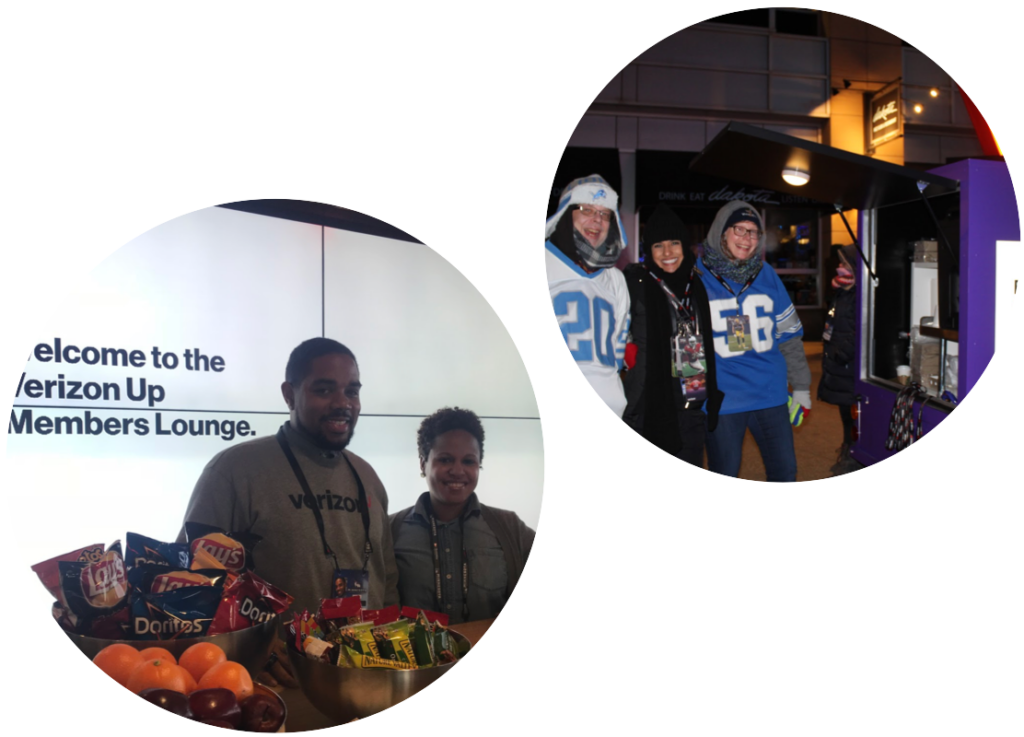 Long days (and nights) coupled with below freezing temps made for challenging conditions, however our team always had their smiles on! We knew the working conditions were difficult for everyone and as a little incentive to keep moving in hopes of keeping warm, we implemented a little friendly competition. At the end of each day, team members were to submit their daily steps number and at the end of Super Bowl Sunday we would calculate who had the most steps!
While our A-Team kept on stepping, we had two other activations that we provided staff for. At one end of Nicollet Mall and Super Bowl Live, Super Bowl Experience was taking place. A team of 3 Product Specialists focused on Verizon's Innovative Learning initiative educating fans about the Verizon Foundation and the #weneedmore campaign revolving around STEM education and the future of youth. And although this activation wasn't as large, we had a small team of two in Mall of America rewarding Verizon consumers with hot chocolate and Super Bowl keepsakes.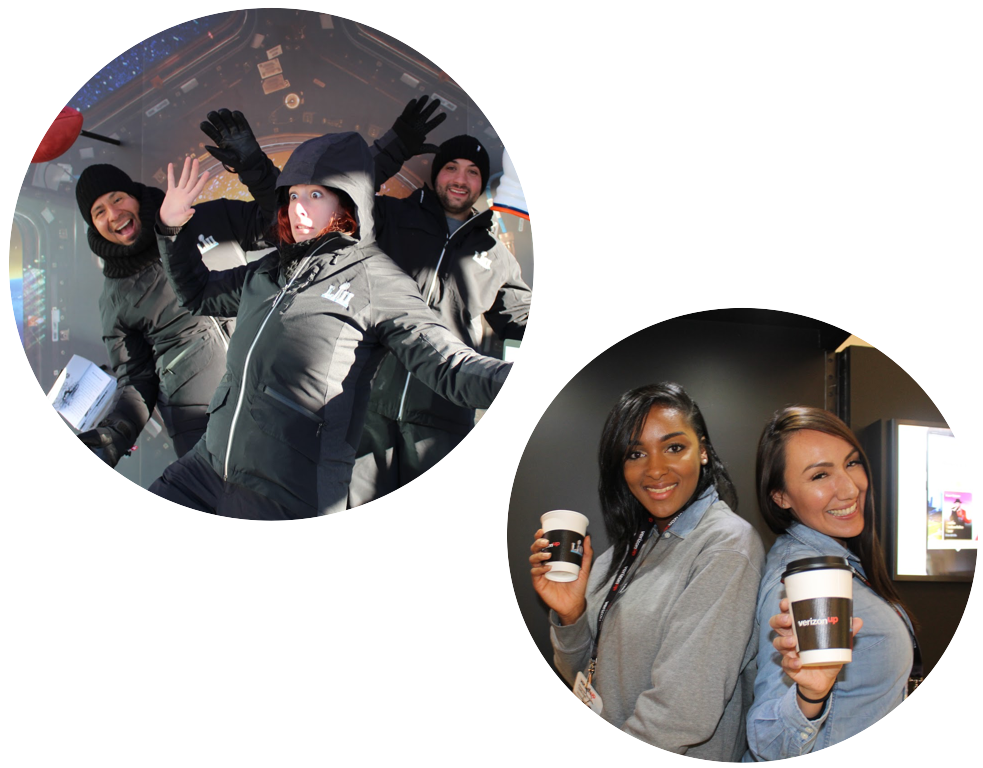 And last but not least, we had a guerilla street team in the field Super Bowl weekend. We were able to take it back to the basics of marketing. With a team of 20 walking billboards, to say the least, Verizon was the talk of Super Bowl Live.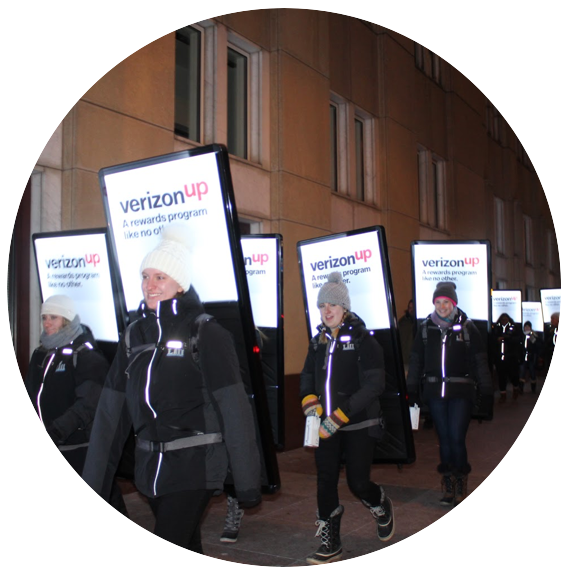 Super Bowl Sunday quickly came around and our Super Bowl Live team split sending a handful of Product Specialists in stadium to help fans stay charged up for the big game and the rest to work Super Bowl Live on it's last day. Sadly to say, the Eagles took home the victory but our very own Patriot's manager took home the win for New England with the steps challenge!
As the host committee has said, "The world isn't talking about the cold. They're celebrating our bold" and although our team won't forget the cold, we are absolutely celebrating their bold!