Anacin Holiday Blitz
Holiday helpers aka Hype's Brand Ambassadors helped Anacin keep New Yorkers happy and headache free this past holiday season during a two-day #FeelBetterFast blitz in major NYC hotspots! Anacin, the fast-acting pain relief that is enhanced with caffeine, has been around since 1930 but often overshadowed by brands such as Advil & Tylenol. Hype's Brand Ambassadors helped to remind consumers of the product and create brand awareness through: product sampling, a fun on-the-go photo opportunity, giveaway items, and free pedicab rides through the city.
Our New York City Field Team was made up of 1 Team Lead and 5 Brand Ambassadors- educated on all things Anacin! During this surprise & delight holiday blitz, it was important to find a team that not only could share the many benefits of the product but would withstand working long, cold hours outdoors.
Along with product samples, the team handed out branded giveaway items such as water bottles, hand sanitizers, sleep masks, and much needed hand warmers! And the Brand Ambassador team wasn't the only crew spreading Anacin brand awareness! Hype secured a crew of pedicab drivers that were also educated on the key talking points and were equipped with product samples during their rides.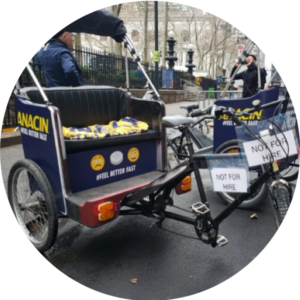 At the end of the holiday-hustle filled weekend, the activation was a great success! In total we gave out 6,000 samples, 216 waters, 2,500 hand sanitizers, 950 sleep masks, and 420 hand warmers!