Random Acts of Kindness
World Kindness Day is celebrated annually on 13th November. On this day, participants attempt to make the world a better place by celebrating and promoting good deeds and pledging acts of kindness. In honor of World Kindness Day, we're taking a look back at one of our favorite experiential campaigns that we had the pleasure of executing in partnership with Truth Collective…
"In today's uber-connected world, it's never been easier to quickly — and oftentimes, negatively — judge." So when LensCrafters wanted to launch a campaign targeted to help people see the good in the world and see everything a little bit brighter, they needed the right teams to hit the streets of 6 major cities to do so!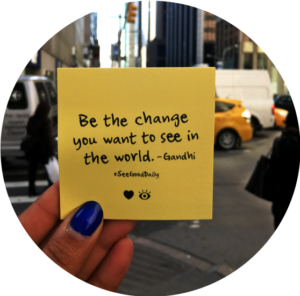 the talent and execution
Hype secured street teams of 10 Brand Ambassadors and Teams Leads, as well as Market Managers to blanket major cities and college campuses looking to spread random acts of kindness! The campaign kicked off in NYC with 22 of The Hype Agency's most enthusiastic and passionate staff, and a team of videographers to create inspiration for the campaign. The crew captured "man on the street" reactions to the random acts our teams performed.
Our teams continued the remainder of the program by activating random acts in five markets across the country. In each of the markets we hit the streets to spread positivity and kindness. Our street teams were given a list of tasks to complete and to watch out for any additional opportunities to help others. Acts include paying expired parking meters, handing out free cups of coffee, or giving away flowers. Each act would be accompanied by a See.Good.Daily. calling card with a call to pay it forward. Our teams were completely non-branded and the only takeaway was the #SeeGoodDaily hashtag that was used on the calling cards and inspirational sticky notes our teams would post.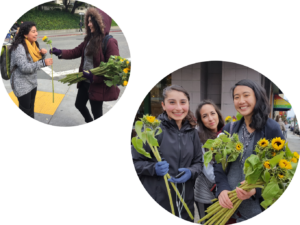 the results
The results of this program for LensCrafters was truly to create positivity and share good in the world. The efforts made by our street teams were to not boost sales or increase brand awareness but to brighten people's day and share kindness! The Hype team was so incredibly proud and grateful to be a part of such a kind and heartwarming campaign. Overall, our teams performed thousands of acts of good to include: handing out coffees, lunches, flowers, compliments, warm wishes, and the list goes on!