July Brand Ambassador of the Month!
This month's Brand Ambassador of the month was hand selected during Stephanie and Nicole's time out at the MLB All Star Game. The team we worked with at the Bank of America activation was a kick ass, rock star group of brand ambassadors- so it wasn't easy picking just one BA for Hype's July BA of the Month. But thinking back to the exhausting days, there was one BA who kept us laughing and kept us on our toes! Being on-site for 12+ hours for 5 days can take a toll on your energy levels and with Tim Shelton on-site, its like you'll never need a cup of coffee again. So let's give it up for Tim!! You killed it on-site and we are honored to have you as our July BA of the month!
Now let's here it from the champ himself- keep reading below to see how Tim got his start, his favorite market to work in and his rules to being a rock star in the field: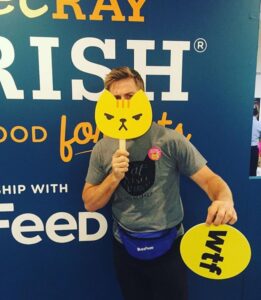 Favorite Market to work in?
Well, I'm living in Orange County at the moment (RIP NYC) but I love random locations. Anything that's quote-unquote, different, or in a city I've never been to before.
How did you get your start?
Got my start doing promotions through the PA Renaissance Faire. I was acting as Sir Walter Raleigh, sword fighting and wooing middle aged ladies in tights (make no mistake, I was wearing the tights)! My boss told me that I was good at interacting with people and told me he had a company that did promotional events where we dress up as characters, and enhance parties. My first event was playing the fictional character of Tim Cruise, Tom's long lost brother, who had only done C- list movies at a dinner party in Hershey, PA.
What's something you don't love about the industry?
The only thing I don't like about promotions is sometimes not getting what you deserve. I hate having to wait for my paycheck. That's honestly one of the things that makes working for The Hype the best! That and all of the upper management are super kind and chill, and no I'm not saying that because they asked me to write this. I'm a firm believer of working for companies that have their "fecal matter together" (can't say the s-word), but are simultaneously good, good people and The Hype Agency is the top of my list for that reason.
What are your favorite types of events to work?
I really dig live sporting events. I'm not a fan of convention centers. They make me feel soulless. But I feel like if you've got the right people, any venue can be a blast!
What are your 3 rules to follow to be a kickass brand ambassador?
1. Just have fun. If you're having fun making the most of living in the moment, it generally reflects well on the brand.

2. Don't look shlub-like. The least you can do is put yourself together for a day. I'm guilty of it too. But there's no reason my upper lip needs a welcome mat. Unless I've got that thing in ship-shape. At which point, it's cool if you resemble John Oates.

3. Do your best to create an interaction, even if it has nothing to do with the product, because that typically transpires into a memorable experience for the consumer. And if that's all they take home with them, you've already succeeded.