Program Spotlight: Haribo @ 37th Annual Red, White & BOOM
Last week's 4th of July weekend was a scorcher! Not only on the beach but also in the streets of Columbus, OH, where we had a team of Brand Ambassadors sampling the original gold bear candies – HARIBO! Downtown Columbus was celebrating its 37th Annual Red, White & Boom and our team had to be a part of it.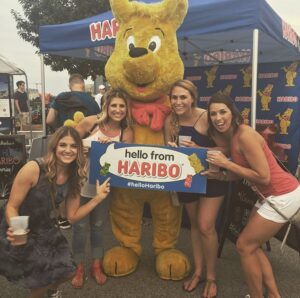 Hype's own Red, White & Boom team consisted of a market manager/driver, team lead, parade driver, mascot/handler duo and a team of 12 BAs. Similar to other 4th of July festivities, our team got an early start on Monday morning. Our footprint consisted of a custom Haribo tent and photo backdrop – but what really brought our booth to life were two inflatable gummy bear chairs, a kiddie pool filled with Patriots Red, White and Blue Haribo gummies, personalized sidewalk signs (designed by Hype's very own in-house illustrator), and 4th of July themed photo props!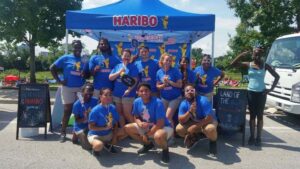 Throughout the day, our team distributed samples to a crowd of over 350,000 people. Between sampling at our 10×10 footprint, throughout the river walk and streets, and at the Annual Ford Oval of Honor parade, our team handed out 90,000 samples! The crowd loved the Haribo mascot (and receiving handfuls of their favorite gummies of course)!
If you weren't in Columbus, you still had a chance to experience the fun. Haribo went live on Facebook to invite fans to guess how many gummies filled our kiddie pool, and had two lucky winners! On top of Haribo's Facebook Live segment, NBC4 and other local media stations also covered the action at Red, White & Boom.
The hustle and bustle wrapped up at the end of the day with the Midwest's most recognized fireworks display!