Program Spotlight: Blue Bunny Ice Cream @ Camp Redbook
4th of July isn't just a day to BBQ and watch fireworks – it's a day for FREE ICE CREAM! On July 4th, 2017 Blue Bunny partnered with Camp Redbook at Fair St. Louis to cool off crowds with free samples of their Mini Swirls ice cream. The Camp Redbook tent was positioned near an entrance to the event, and included a Blue Bunny branded truck, ice cream cart, blogger demos and more!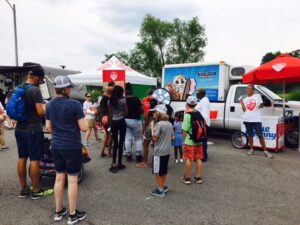 Hype's Brand Ambassadors put a smile on many faces, both young and old – but sweet treats weren't the only reason why! In addition to passing out free ice cream, our Brand Ambassadors also encouraged event attendees to spin the Blue Bunny prize wheel and win some great giveaways. The team answered questions about the product and the brand, and kept the excitement up all day long!
RESULT/CONCLUSION:
Samples Distributed: 4,000
Premiums Distributed: 5,000
Sampling Impressions: 20,000+
Smiles: Countless!