Khakis: The Brand Ambassador MUST HAVE Wardrobe Item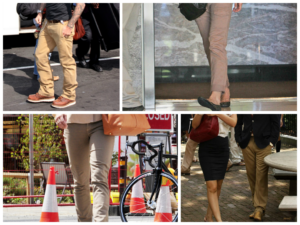 Khakis- the staple item every Brand Ambassador needs to own and let's be honest, despite major marketing efforts, khakis are not the most fashionable item in anyone's closet. The thing is; there really isn't anything wrong with khaki pants. They are super neutral and can be worn dressy or casual. And guess what BAs? 90% of the time it will be required that you wear khaki pants. Why wouldn't you want a great pair of khakis- no one wants to look like they're wearing a sack of potatoes, right?
So, let's get started with why this mild, neutral beige has become such a hit in the business casual wardrobe. Khaki has been used as a color world since 1848 and was derived from khâk, literally meaning "soil" in Persian. The British Indian Army used khaki as a cheap military camouflage when they needed a super bland color to blend into the sands. Following World War II, trousers known as khakis became popular and in 2013 they are also referred to as "chinos".
Now back to business- finding the RIGHT pair for YOU. Purchasing any kind of pants is much more personal than buying a shirt. It can be even more difficult to find the perfect pair for you when they aren't the most stylish bottoms to begin with.
Here are a few tips to keep in mind:
Find the right color. Basic khaki or light khaki is good for all. Stone khaki is ok, but only for the ladies. Dark khaki isn't good for anyone… and don't even think about wearing olive.
Unless you can no longer zip your fly- don't wear an elastic waist!
Keep 'em straight. Straight leg is the best fit, stay away from boot-cuts and low-rise please.
Avoid cargo pockets at all cost.
If you're looking to add five pounds, get a pair with pleats. If not, NO pleats.
Oh- and if you're in a market like New England, you might want to consider flannel-lined khakis for some extra warmth!
Still not impressed by the Khakis?
Here are some relatively "cool" people who have worn khakis:
Chuck Bass from Gossip Girl
Django
Mark Wahlberg in TED
Captain America: The First Avenger
David Beckham
Jay Z
Jennifer Aniston
Pippa Middleton
Katie Holmes
DON'T FORGET:
As a Brand Ambassador you never want to show up to an event not properly dressed. DO NOT wear anything that you haven't been designated to wear.
Check out the links below to check out some of our favorite khakis:
Men's:
http://www.brooksbrothers.com/mens/casual-pants/0220,default,sc.html
http://www.jackdonnelly.com/pants
http://www.llbean.com/llb/shop/51909?feat=590-GN1&page=double-l-chinos-natural-fit-hidden-comfort-plain-front
Women's:
http://www.talbots.com/online/browse/product_details.jsp?id=prdi31423&rootCategory=cat70008&catId=cat80010&sortKey=Default&section=Regular&conceptIdUnderSale=cat70008
http://www.anntaylor.com/beige-pants/cata000014?seoPageTitle=BEIGE-PANTS&trail=4010%3A168&pageSize=&gridSize=md&catid=cata000014&goToPage=&fRequest=true
http://www.ae.com/web/browse/product.jsp?productId=1325_2192_209&catId=cat6470530