Program Spotlight: 12th Annual Nike Women's Half Marathon
This year marked the 12th Annual Nike Women's Half Marathon in The Golden State City—San Francisco!  Hype returned for our third year staffing Brand Ambassadors for this 25,000+ person event that benefits The Leukemia + Lymphoma Society.  The SF Half Marathon is just one event in the 2015 Nike Women's Event Series that takes place worldwide. The Nike Women's Event Series was created to provide Women with a superior experience that celebrates the strength, determination and accomplishments of women worldwide.
The SF Nike Women's Half Marathon events started with Early Tank Pick Up on October 8th and wrapped up with the race Sunday, October 18th.  Different from previous years, Nike Women hosted various experiences the Friday and Saturday before Race Day in prep for the 13.1 miles that were soon to be run Sunday morning.  Friday night, there was a Nike+ Training Club Get Focused workout at Pier 35.  Saturday morning, there was a Nike+ Run Club Shake Out run and all throughout the weekend there were personalized Nike+ services available at Union Square.   Regardless of the event or location, we had at least one of our amazing Brand Ambassadors there!  If you found yourself at Union Square or the Westin and spotted an individual with an ASK ME sign or decked out in oh-so bright Volt + Purple Nike gear—those were our Brand Ambassadors!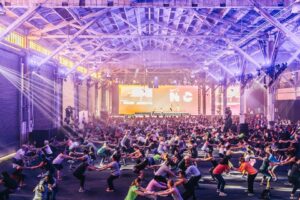 Our Brand Ambassadors share the passion of staying active and some are even runners themselves.  We had a small team of 6 Brand Ambassadors present for the first weekend.  However, we had about 50+ from near and far come in for this "won't want to miss" event.   Our Brand Ambassadors know that Nike is a great brand to represent—they are young, bold and always evolving.  Whether it was cheering consumers on to sign up for Race Day Cheer Sections, being the smiling face when racers picked up their bib for those 13.1 miles they had been training for, or helping take photos with the firemen at the finish line, our Brand Ambassadors were there to help!  Our Brand Ambassadors were there to enhance racer's experience and make their WERUNSF time memorable. They helped take photos with the giant WE RUN sign in Union Square.  They helped navigate runner's to pick up their packets, scavenger hunt charms, other Nike stores around town or just provide details of the weekend's events.
The North American Nike Women's Race Series, with the help of worldwide Nike retails sales records, has generated over $152 million dollars for The Leukemia + Lymphoma Society.
In addition to our Nike BA Team, we had a small team of Brand Ambassadors jamming along representing Spotify in Nike Town and on the course with a DJ on race day.  Our Brand Ambassadors were spreading the word about downloading the app if they haven't already and following the Nike+ Run Club on Spotify for playlists that runners could groove along to while training on while on the course!