Program Spotlight: Amope Pedi Perfect Mobile Spa Tour
About Amopé™
Amopé™ means "love my feet" in Portuguese and was created out of the idea that beauty and skin care shouldn't stop at the ankles. This drives the company's mission to make it easy for you to love every step. Amopé™ has a passion for beautiful feet, which inspired them to create a range of specially designed foot care and pedicure products, developed by foot care experts, that make a noticeable difference to how your feet look and feel.
About the Pedi Perfect
The Amopé™ Pedi Perfect™ Electronic Foot File can be used to create your own salon experience at home and enjoy beautiful, perfectly pedicured feet. Electronic Foot File functions without any sharp blades and is furnished with a safety stop that stops the device as soon as too much pressure is applied to the skin. Gadget includes one roller head, extra roller heads are available for purchase separately. Gently roll across the affected area with light to medium pressure and even movements. Repeat regularly.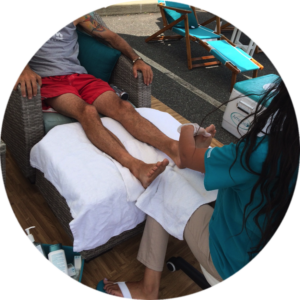 The Tour
Hype partnered with Gigunda Group to find licensed Nail Techs for their Mobile Spa Tour featuring the Amopé™ Pedi Perfect™! Staffing this event required finding qualified, friendly, best of the best nail technicians and cosmetologists all around the East Coast. We found lots of dedicated, passionate, and experienced nail technicians who had a blast pampering consumers in the Mobile Spa!
Staffing
Staffing for licensed Nail Technicians is a little different from staffing brand ambassadors! We had to do a little digging to ensure we had top-notch, experienced staff on board. Throughout our search we were able to work with a lot of new talent who have a special qualification – a nail tech or cosmetology license!
The result?
Our nail technicians helped consumers love their feet! The program resulted in many sales of the Amopé™ Pedi Perfect™ Electronic Foot File.
Are you interested in working beauty events?
Look into obtaining your cosmetology or nail technician license! Being licensed allows you to work a whole different type of promotional events!