Tis' the Season for Staffing! – Christmas in July
July marks six months until Christmas and what better way to celebrate the summer heat than hosting a "Christmas in July"!
Here is how Hype brought Christmas cheer to our July activations.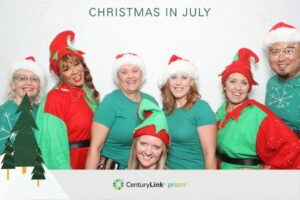 Finding the Right Staff
During our interview process, we got specific! We looked for JOLLY and CHEERFUL Brand Ambassadors that love the holidays and can trim a tree! We found staff that LOVE Christmas activities, celebrate holiday traditions and love to decorate in shades of red and green.
Where To Find Santa And His Elves During Summer
Well… when you can't have the REAL Santa and his Elves, you reach out to Brand Ambassadors to play the part! We found a FUN and CHEERFUL staff who were perfect for this job! Brand Ambassadors had to feel comfortable dressing up in costume, trimming trees and be in the holiday spirit even in the HEAT! We ordered Santa suits and elf outfits for our staff to wear to truly play the part!
Where To Find The Trimmings for The Tree
Believe it or not, stores are gearing up for the holiday season during the summer months so lots of department stores are fully stocked with Christmas trees, ornaments and other decorations for the early shoppers! One good thing to ordering in advance is shipping is usually free or you can find expedited shipping at no charge! Walmart was our main go-to store for finding everything we needed for the Christmas In July events in Phoenix, Las Vegas and Omaha!
How To Find Professional Carolers To "Fa La La La La"
You do your research!!! Many companies love booking these "off season" gigs because they are just coming off their slow season and starting to get ready to rehearse and prep for the upcoming holiday one but are still slow. If the professional companies are out of town, then you reach out to your local college choirs, church groups and local chorus chambers! We used local carolers in each market city to learn and sing customized lyrics to traditional notes but with a twist!
This may be Santa's off-season but that doesn't mean we can't put him and his elves to work!
Give Hype a call today to start planning your next event!