#TheInternDiaries – Week 1 as a Hype Summer Intern
Each summer Hype offers an extensive internship program that is anything but making copies and grabbing coffees. We look for the best and brightest of the upcoming graduation class who have a passion and drive to dive in deep to the wild world of experiential marketing. This summer was landed two kickass interns- Erin and Makayla, that within their first week at Hype solidly proved that they were a great fit for our agency! Over the next few weeks, the interns will be keeping a diary of sorts on all the Hype happenings and what they're days are filled with!
Check out Week 1 below!
From the desk of Erin-
The first day of the internship my body was filled with nothing but nerves, just as anyone with any new job or internship. Nobody likes to be the new kid. Hype made me immediately feel welcomed and a part of the group. Day one seeing just an overview of what they do I noticed how much works goes into staffing each event. From picking who they want to interview to the actual interview itself it all goes into careful consideration. With it being my first day I didn't think it would be much other than paperwork itself. Boy, was I wrong!
While reviewing Hypeology with Dayna- Makayla and I were able to see some of the events Hype activated and received a basic overview of the business as a whole. What came next was awesome! Dayna and Ryane offered brand ambassador spots to Makayla and me for an activation happening the next day in Boston. Immediately all my nerves were lost and excitement took over! I went straight home after work and pulled out my khakis (typical BA uniform)!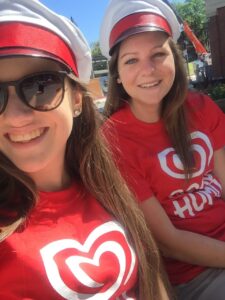 The next day we both drove into Boston, excited for the day ahead! When we arrived and met up with the tour team we were happy to learn how inviting and fun everyone was! As the other brand ambassadors arrived, the awkwardness of meeting new people quickly went away and everyone starting having fun! From there, the tour team split us into our roles for the day. This event was so incredibly fun and right then I knew- this internship is going to rock! With my first week behind me and all that excitement that already I am looking forward to continuing this internship for the rest of the summer.
 I am excited for what is to come and all that I am going to learn!