Creating Brand Awareness
The Tulip Program
Last Saturday, May 16th 2015 nearly one thousand purple clad participants rallied together at the San Diego Lupus Foundation's "Walk to End Lupus Now," in an effort to donate their time and energy in support of finding a cure for Lupus. Among the proud sponsors and participants was the "Tulip Program", a wonderful discovery study offered by the well-known pharmaceutical company AstraZenica.
The Brand:
An estimated 1.5 million Americans suffer from lupus, an unpredictable and misunderstood autoimmune disease, where the immune system is out of balance, causing damage to any organ system in the body. The Tulip Program is a series of four research studies evaluating an investigational drug for lupus, which begins enrollment this year. The color purple has become an icon for awareness for lupus. The tulips are known for their beauty and fragility as a perennial, yet they come back stronger every year.
The Job:
Hype partnered with Blue Chip Marketing to create brand awareness and promote study sign-ups via the website: WhatIsTulip.com. In order to accomplish this, we decided that we needed to really stand out from the crowd – do something that hadn't been done before and no one would expect! This was when we put in motion the idea of the "World's Largest Tulip Bouquet." Now the idea had lift, but how do you go about creating this fantastic display? Simple, you contact the TOP giant flower producer in the country (which is also the production company responsible for the Victoria Secret Fashion Show)!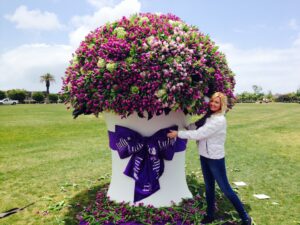 The Result:
A 15'h x 8'w purple tulip display of EPIC proportions!
Over 13,000 purple tulips were flown in from Holland, 500 hydrangeas, tons of greenery and steel shipped from New York City, 8 hours of onsite production by premier NYC designer and one GIANT purple bow!!!
The World's Largest Purple Tulip Bouquet provided the perfect photo opportunity, as it was positioned at the end of the brightest purple carpet you've ever seen! There wasn't one participant that wasn't "buzzing" around the display or that didn't snap a photo and immediately and post it to their social media feeds…brand awareness nailed!!
The Message:
The Tulip Bouquet in all its magnificence of over 13,000 blossoms, also served as a symbol of "beauty and strength and in numbers" and was a flawless tie in to both the Lupus Walk and the Tulip Program.