Real "LIKES" – Brands want Quality vs Quantity
When it comes to Facebook likes, you may think, "Bigger is better", having more Facebook likes always seemed like the best way to get more people talking about your brand and reaching more potential consumers. For a long time brands have always looked at how to increase the number of Facebook likes and approached it all wrong. Focusing on the number can actually be bad for your page and your image. When a prospective new Facebook fan comes to your Timeline, they may look at the total number of Likes. But they'll also look at "Talking About This", which specifies the number of people who have engaged with your page during the past week. This is the key to deciphering between REAL likes and people just in it for the ride!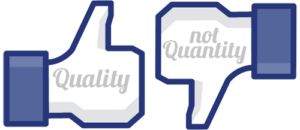 So what does that mean for your next campaign? Creating a social media integration with brand ambassadors who engage with your target consumer and start a conversation about the brand will create REAL followers of your brand and increase your "Talking About This" number and this is key to show up in people's newsfeed and continue the conversation. These followers interact with your brand making it relevant.
Let's talk some more Facebook lingo…having a low "Talking About This" number can negatively impact your EdgeRank. EdgeRank is the Facebook algorithm that decides which stories appear in each user's newsfeed. What this means for your brand, Facebook looks at all the stories being posted and puts the highest EdgeRank scored stories to the tops of users' newsfeeds. When you have real likes and real people interacting with your page it will increase your EdgeRank- your Facebook page will consist of quality fans rather than the quantity of fans.
It is as simple as this- brands should want REAL likes to target to REAL consumers and we are here to help find them for you!  Check out some brands that are focusing on their actual fans rather than millions of "fans".
GREY POUPON:
With the re-launch of the Grey Poupon brand they used their "Spread Good Taste" platform to focus on the quality of their Facebook fans and ended up denying 32,000 consumers who originally "liked" the brand's page.
https://www.youtube.com/watch?v=c2dXb_nqyjs
BURGER KING:
Burger King dropped their fans they dubbed "Whopper Sellouts" and resulted in increasing their engagement on Facebook. https://www.youtube.com/watch?v=IGJzkwu7bik