#ClientSpotlight: Sigma Beauty
What do you get when you mix a civil engineer with a Master's degree in Business Administration and a researcher with a Ph.D. in Molecular Biology? Well, a fabulous high-quality beauty brand of course! Sigma Beauty, founded in 2008, by husband and wife Rene and Simone have created a company that filled a gap in the beauty industry by producing affordable and high-quality products. Sigma is one of the fastest-growing and top-rated companies in the beauty industry known for product performance, resistance and durability to fit the specific needs and wants of every consumer.
The Hype Agency recently partnered with Sigma to provide top-notch Brand Ambassadors to work with Sigma during their first ever appearance at IMATS Makeup Show in NYC. This was also the first year the brand ever used a staffing agency for additional staff. As one of the busiest booths at IMATS the additional staff members were definitely needed. The Hype Agency staffed a Team Lead and 10 Brand Ambassadors. Our activation specialist took the time to find the perfect candidates for the event. For this event the key qualities the Brand Ambassadors needed to have were- trade show experience, knowledge of and passion for the beauty industry and tech-savvy. Through Hype's extensive database and interview process we confirmed 11 lovely ladies who fit the image of the brand and helped in created a very successful event for Sigma Beauty.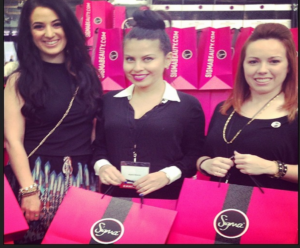 To learn more about Sigma Beauty, click here.
To learn more about The Hype Agency's services, click here.