How we TURNED UP THE SUMMER with Bacardi
September is officially here and though thoughts of crisp, colorful leaves and pumpkin spice lattes are dancing through our heads its hard to forget about how we "Turned Up the Summer" this year with a super fun promotion nationwide with Bacardi Limon. From Vegas to Philly to Miami Beach, we hit up the hottest pool parties this summer all across the country!
Knowing that there is nothing better than a quick dip in the pool and a refreshing citrus beverage on a hot summer's day, we partnered with Bacardi Limon to not only spread brand awareness but also to create some fun memories with friends, family and tasty drinks galore!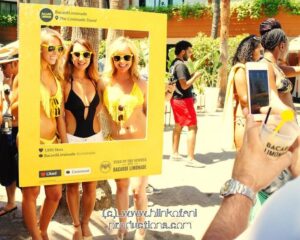 THE JOB
We worked with Bacardi at major beach and pool parties across the country in May through August! Our parties were at large scale hotels such as Caesars Palace in Vegas and The Roosevelt in Los Angeles. We also took over a couple of beaches in the Hamptons and Miami Beach! At each event, we ensured that everyone in attendance was able to engage and interact with our Bacardi beach babes and go home with Bacardi-branded gear! From our lemon slice pool floaties to our yellow Bacardi sunglasses, towels and beach balls- this flashy, yellow Bacardi gear grabbed the attention of all partygoers! We also partnered with local entertainers and DJ's to help turn up the heat!
SOCIAL MEDIA BUZZ
Besides simply having a good time, our main goal at these events was to encourage all partygoers to take pictures of the fun Bacardi sponsored activities! We set up unique photo ops at all corners of the events with photo booths and a life-sized Instagram Frame branded as "The Limonade Stand!" This frame was a huge hit as hundreds of attendees lined up to take photos in it with friends and shared these pictures across various social media platforms!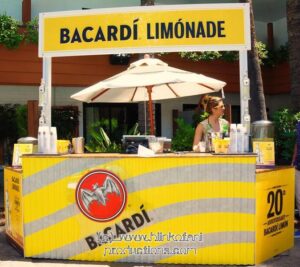 STAFF
In staffing this event, we hired confident, high-energy promotional models who were great at getting a crowd excited about Bacardi Limonade! Dressed in matching yellow bikinis, these ladies were the centers of attention at each party! They served cocktails, handed out Bacardi branded swag and encouraged all attendees to take pictures throughout the event!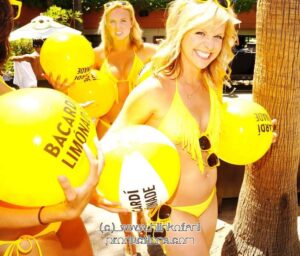 THE RESULT
We were able to execute a super fun promo to celebrate summer and create major brand awareness among the target market!