"Nude" Brand Ambassadors Hit the Streets!
Shockvertising (shock + advertising) is an advertising tactic that has been around since the 80s, but unlike fanny packs and blue eye shadow, shockvertising has proven itself to be more than a trend! Shockvertising deliberately astounds or offends its audience by violating a norms or social value. Brands such as Urban Outfitters (refer to bloody Kent sweatshirt), French Connection (FCUK) and United Colors of Benetton (HIV/AIDS ads) have given this idea a much more disturbing connotation, but here at Hype we like to see the humorous side of shockvertising!
In partnership with our client, FlipTurn, we recently sent out street teams in 15 markets. We had over 50 brand ambassadors over two days to promote the release of the Hot Tub Time Machine 2 (HTTM2) movie. Our Brand Ambassadors canvassed the cities and set out to grab attention and create awareness about the movie release.
Our team's goals were to target fans of the first film while recruiting new ones and create a grassroots effort to highlight the irreverent and raunchy nature of the film. To do this our brand ambassadors needed to give the fans a glimpse of what can be expected in the upcoming sequel. To do this, they were dressed in nude suits, yes, nude suits and a custom branded "censor bar" to cover up their exposed areas!
This guerilla-style campaign targeted events such as the Valentine's Day Undie Run, bars, music venues and local sporting events. Once our HTTM2 Brand Ambassadors caught the attention of fans, they encouraged them to have their photo taken and were able to adjust a sensor bar overlay on the photos to cover consumers "exposed parts". Then these hilarious photos are instantly shared on social media!
This activation may not be as offensive as other advertising but we still think it had an AWESOME effect of shock and awe to the average consumer walking down the street. This type of shocking display not only significantly increases attention to the brand but it leaves a much more lasting impression on the consumer. Also, just like anything that can be taken as offensive or shocking it is all about perception and personal opinion. In Hype's humble opinion, we think this was a humorous and genius campaign!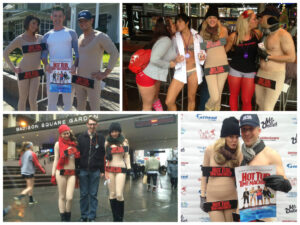 Continue reading below to see what the streets have to say about this:
"I almost had a heart attack seeing you ladies in these body suits" (Male 35)
"This is crazy man, all this to promote the movie, the bus and the girls, it stopped me in my tracks!" (Male 23)
"Thanks for the candy and shot glass, but may I have your male model?!" (Female 38)
With stunts like this one, it is incredibly important to have the right fit for the job. Our HTTM2 Brand Ambassadors were actor-like staff that knew how to grab attention, have fun, and engage with fans! They had a blast promoting the movie and we are sure to have full seats at the movie theater this weekend!